Karibu!!!
Karibu means welcome and was the first Swahili word I learnt as I landed in Kenya. Welcome to this week on the blog as I share with you my amazing experience on my recent solo trip to Kenya.
Disclaimer: It's a long read
At the start of the year, I was unclear about a lot of things, I was however pretty sure that I didn't want 2022 to be like any other year I had lived. I had been spending time learning about living from a place of consciousness and awareness and knew I wanted to live more intentionally; I wanted to have a year filled with adventures, pleasant memories and to design/live a life I was in love with. The details were/are still blurry but I decided a good solo trip was a great place to start.
I got a few questions about my decision to travel alone, questions like – "why did you go alone?"… " how did you get your husband to 'allow' you travel alone?" and other variations around the choice to travel solo.
The way I see it is quite straightforward – I believe every trip has its own place – whether it is a solo trip, baecation, business trip, group trip, girls trip, boys trip etc ; each type of travel creates it's own unique experience that cannot be replicated and I have enjoyed the thrill of various kind of travel experiences. That said, I believe there is something different about travelling solo – it forces you to lean into yourself in a way you may be unused to and leaves you better equipped to manage different scenarios; I think it could be a self discovery experience as it is an adventure.
I also found it very fascinating that travelling solo comes across as almost strange/tabooish when you are married, especially as a woman; it is sometimes easy to forget that we are first individuals with a responsibility to create our own reality and happiness and I am definitely extra grateful to be able to live a reality where individuality is embraced.
Travelling solo is a freeing and liberating experience and one that I recommend everyone to try at least once. You may end up figuring out it is not for you and that is okay but at least you tried something new!
*******************************************
The next question was where? A trip to Europe seemed like an initial default option especially as I had an unused holiday ticket to Europe which was a gift from Kay on my last birthday. I however wasn't feeling very excited about a winter vacation considering that I wanted to travel in February and so I put the Europe trip on hold.
My major criteria for location was a place with nice weather plus a good blend of tourist activities; after a few conversations and research, I narrowed my options down to East Africa, I considered different countries across East Africa and eventually decided on Kenya + Tanzania.
I am quite obsessed with planning and details, so I put in a lot of work into curating an itinerary for myself which translated into a beautiful experience that will stay with me for a very long time!
I am writing this blogpost to share my experience, learnings, cost and tips which I hope will inspire someone else to want to see the world and hopefully make travelling to Kenya easier for you if it is a dream destination.
Now, let's dive in, starting from the basics…..
***************************************************
Visa:
In the past, as a Nigerian, you didn't need to apply for a visa in advance to travel to Kenya and would be issued a visa on arrival, however, this was discontinued sometime in 2020 and now you need to get an e-visa before you can travel to Kenya.
The process is fairly easy and this link has all the details. The official cost for the e-visa application is $51. You could however also use a travel agent for the visa application which will cost you a bit more. I used a travel agent for mine as I didn't have the information on time that I could apply myself and needed to get the visa issued fast enough for my travel dates.
If you have time, my recommendation would be to apply by yourself and save some extra cost. The visa is valid for three months from the date of issue with a stay of up to 90 days in Kenya. For other nationalities, this link provides details on whether you need a visa to travel to Kenya and the requirements.
Covid Requirements:
As at today, you are required to have a negative PCR test taken not more than 72 hours before your flight. You also have to be fully vaccinated with proof of vaccination except for travellers with medical conditions precluding vaccination. The cost of Covid test varies from country to country. In Nigeria, it now costs NGN 45,250 (approx $80)
Ticket and Hotel Reservations:
Your ticket cost will depend on your preference (airline, class of travel, travel dates etc.) There are several websites like wakanow, travelstart, skyscanner etc where you can check for flight options/prices. I usually check an average of 6 different booking sites before I buy a ticket 🙂 – always gotta be sure I am getting the best deal!
For my hotel reservation, I used booking.com. I recommend using their mobile app as you are offered extra discounts on the mobile app that don't apply on the web (I think it's a marketing strategy to get more people to use the app); whatever the reason is, I'm all for a discount – lol. One of the reasons I liked using booking.com was that I could filter the options using different criteria and get various options to choose from. I streamlined the options based on cost, location, breakfast inclusion, free cancellation, hotel rating, review scores and facilities. If you already know the exact hotel you want to stay, then this step is not necessary.
Your ticket and hotel costs are typically the biggest portion of your travel expense and will depend on your budget/preference.
Safety Tips:
One of the most important parts of travelling, especially when travelling solo is safety. I was very conscious about this both for my comfort and that of my loved ones. Below are a few precautions I took:
Location sharing/Itinerary: Before my trip, I activated the location sharing feature on my phone so that Kay can check wherever I am in real time if needed. Of course, distance is still a barrier but at least the information is available should there be an emergency. I also had my itinerary for each day planned and shared ahead so there is a fair knowledge of what I am doing each day.
Offline map: One of the things I did was to always put my location on the map before the trip starts so that I have an idea where we are going to and distance incase I lose internet. Because you will be relying on tour guides/taxi drivers for transportation to new places, I think it is important to have an independent idea of the location.
Self Defense kits: I travelled with a pepper spray and a taser which I always had with me. It is important to note that some of these items are not allowed in your carryon luggage when travelling so you have to check it in. Also, I read it is illegal to travel with a pepper spray to some countries so please do your research well if you intend to travel with any of these.
Social Media Updates: One of the recurring tips I read about safety when travelling solo is to not post pictures/share location on social media in real time, however, because my instagram page is private and mostly contains people that I know/know me personally, I didn't have any major concern about posting my updates in real time; I however did not include the name of the hotel I was staying on any social media posts. If you have a public profile, you might want to take extra precaution to only share your location after you have left the place.
Now that we have the basics covered, let's deep dive into the itinerary. I will be sharing an overview of my daily itinerary which could be ideal for a 7-day trip to Kenya, however, you can move things around based on your personal preference.
DAY 1: ARRIVAL, REST AND A LITTLE DOSE OF ADVENTURE
The duration of the flight from Lagos to Nairobi is about 5hrs 20 mins; my flight landed in Nairobi around 6:00am and I was out of the airport in less than 20 mins. It was hands down the most seamless airport experience I've had in a while , especially in this covid times when travelling is at least 2 times harder.
I had booked my airport pickup to the hotel via the booking.com app as well and a driver was waiting at the airport with my name as soon as I arrived. The hotel offered a pickup at $40 but it cost me $30 via the booking.com app. I cannot confirm if you will get a taxi at a cheaper price at the airport – that could also be an option; I however was optimizing for comfort and didn't want to take any risk given that my flight was arriving very early in the morning.
It was about a 1hr drive to the hotel from the airport, I checked in, freshened up, had breakfast, took a quick nap and was set for an afternoon of adventure. I wanted to keep the day light as I had travelled overnight but also wanted to tick a few boxes of my planned activities.
Agenda for day 1:
Giraffe Center
Massai Market
Giraffe Center:
The Giraffe Center is a non profit wildlife conservation park located in Langata, approximately 20 kilometres from the centre of Nairobi. It is the home to a number of giraffes and is open daily from 09:00 am to 5:00 pm; the entrance fee for adult tourists is $15.
As a tourist, you get to spend some time viewing and also feeding the giraffes. After you get in and pay the entrance fee, you are given a bowl with food pellets for the giraffes, asked to read the instructions on how to properly feed them, after which you can proceed to where the giraffes are.
It was a beautiful opportunity to be close to such gorgeous creatures and be able to feed them. Absolutely loved it!
Visit to a Maasai Market:
My next stop was to visit a local Kenya market called Maasai Market. I had a very lovely tour guide who recommended a few stores where I spent time doing some window shopping and actual shopping of lovely souvenirs.
I spent the rest of the evening catching up with one of my bosses from P&G at a lovely spot called The Bar Next Door which is a very nice location to unwind and chill.
DAY 2: WILDLIFE & HISTORY
Agenda for day 2:
Nairobi National Park
David Sheldrick Elephant Orphanage
Kazuri Beads Factory
Karen Blixen Museum
Nairobi National Park:
Day 2 started with a lovely safari drive at the Nairobi national park. The Nairobi national park is one of the iconic places to visit in Nairobi, it has an area of about 117 km square and is the home to several wildlife animals. The entrance fee into the park is $43.
The safari entails hours of driving around the park in a 4*4 vehicle with the hopes of spotting as many animals as possible, especially the big 5 (The big 5 are Lions, Leopards, Buffalos, Rhinos and Elephants). The interesting thing about safari rides is that you cannot predict which animals you will see, therefore the various tour guides rely on one another via a radio device where they share information once a rare animal is spotted.
It was such a beautiful experience and I was just in awe of these creatures, we spotted Impalas, Buffalos, Lions, and so many beautiful birds in their natural habitat. Below pictures are some of the ones I took at the national park.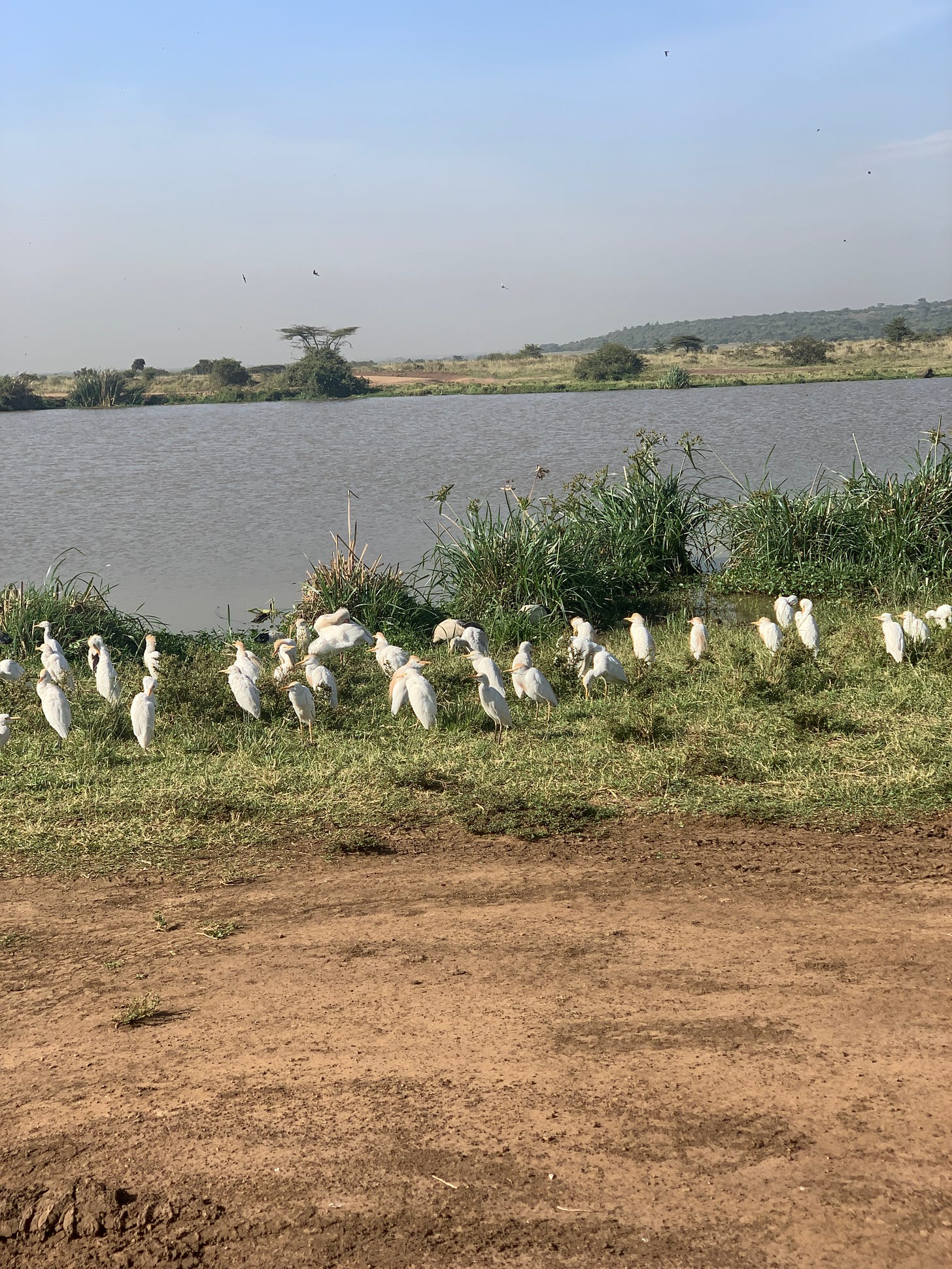 David Sheldrick Elephant Orphanage: The next stop was the David Sheldrick Elephant Orphanage. It is a rescue & rehab centre for orphaned Elephants and is open to the public for viewing mud baths & feedings. The orphanage only opens to tourists for only 1 hour daily between 11am and 12noon. They have a fixed number of people allowed in each day due to Covid (maximum of 100) and so you are required to make a reservation ahead. The entrance fee to the orphanage is $15.
One interesting fact is that you can choose to adopt an Elephant at the orphanage at $50 per year; the funds help the charity to continue to care for the orphans and you get a certificate of adoption 🙂
I was famished the first two activities and made a stop at the Tamambo Restaurant for a quick lunch starting with my favorite drink – fresh mango juice
The Kazuri Beads Center: The next stop was the Kazuri beads and pottery centre; the centre was setup to provide employment opportunity for disadvantaged people, especially single mothers by training them to produce top quality ceramic jewellery and pottery.
I took a tour of the centre and spent time observing the women at work, manually producing each item. I bought a piece of jewellery for myself which I think is one of the most significant purchases I've ever made, as every time I wear it, I will be remembering the strength of the Kazuri women.
Karen Blixen Museum: My final stop on day 2 was the Karen Blixen Museum. The museum is the former home of Danish author, Karen Blixen, when she lived in Kenya. The popular 1985 movie, Out of Africa, is an account of her life while living in Kenya. Tourists are offered guided tours of the house, which features rooms designed in both the original decor and with props from the 1985 film. The entrance fee into the museum is $12. I thoroughly enjoyed learning about her story.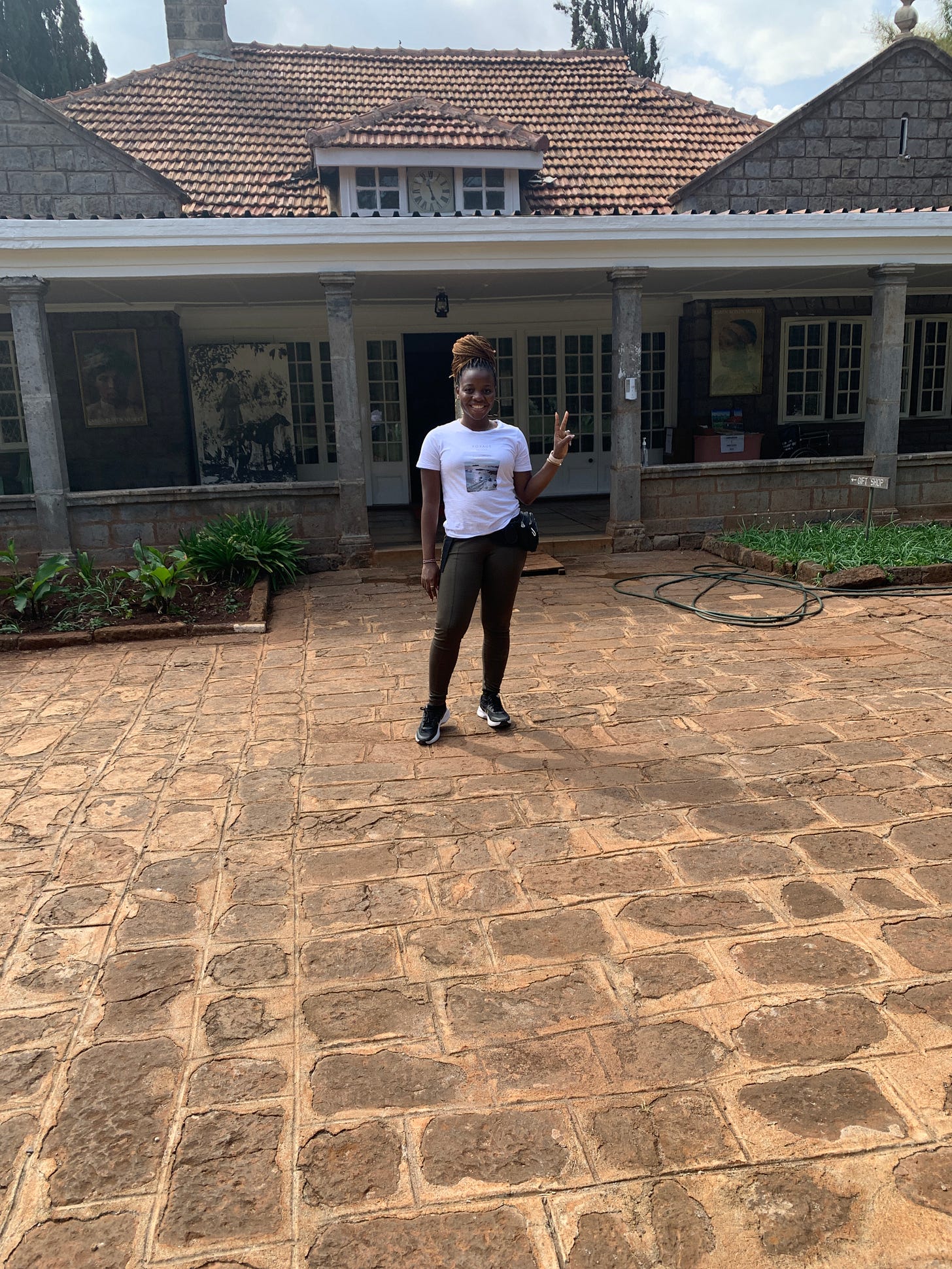 DAYS 3 – 5: MAASAI MARA AND THE ULTIMATE SAFARI EXPERIENCE
Going to Maasai Mara was a different level of adventure for me, but one I knew I wanted to explore as part of this trip.
It is important to mention that you can have a very rich holiday in Kenya without travelling to Maasai Mara as there are so many other tourist spots and activities if a trip to somewhere like Maasai Mara is not your thing. This is why I say so:
Maasai Mara is far away from the civilization of Nairobi – just think about it like going to your village versus being in the city
It is a long drive from Nairobi , a little over 6 hours and so you cannot go and come back to Nairobi same day
The major activity is the game drives which is hours of driving around the park to spot the animals. If you are satisfied with the animals you've spotted at Nairobi park, you may skip this.
The accommodations are mainly tents/camps located around the Maasai forest which may not be your thing – it is however a safe location.
For the Maasai trip, I had to join a group as it was going to cost me significantly more to go solo. A solo Maasai Mara trip for 2 nights was going to cost an average of $1,600 as this requires renting 4*4 land cruiser vehicle alone for the trip; however, joining a group cost me significantly less at $300 for 2 nights (the package included accommodation, transportation in 4×4 Land cruiser, Game drives in Mara and Meals). There are options with more exclusive and expensive accommodation and there are also cheaper options with shared accommodation – e.g. hostels. I wanted to have a room to myself and also a budget-friendly option so my choice was around mid-range.
This excludes the entrance fee at the Mara which is $80 for 24 hours for non-Kenyans.
Day 3: The Journey to Maasai Mara
We started the trip at about 8:00am and got to Maasai Mara around 1:30pm. This included a stop at the the Great Rift Valley Viewpoint.
As mentioned earlier, the accommodation in Maasai Mara was a tent in the middle of the reserve. I was not so worried about security as I had asked a lot of questions and done a bit of research. It was also a very decent room and I loved the scenery. I felt a tiny pang of fear on my first night when I was about to sleep and unconsciously started reciting Psalms 23 and then I slept off like a baby. I actually overslept 🙂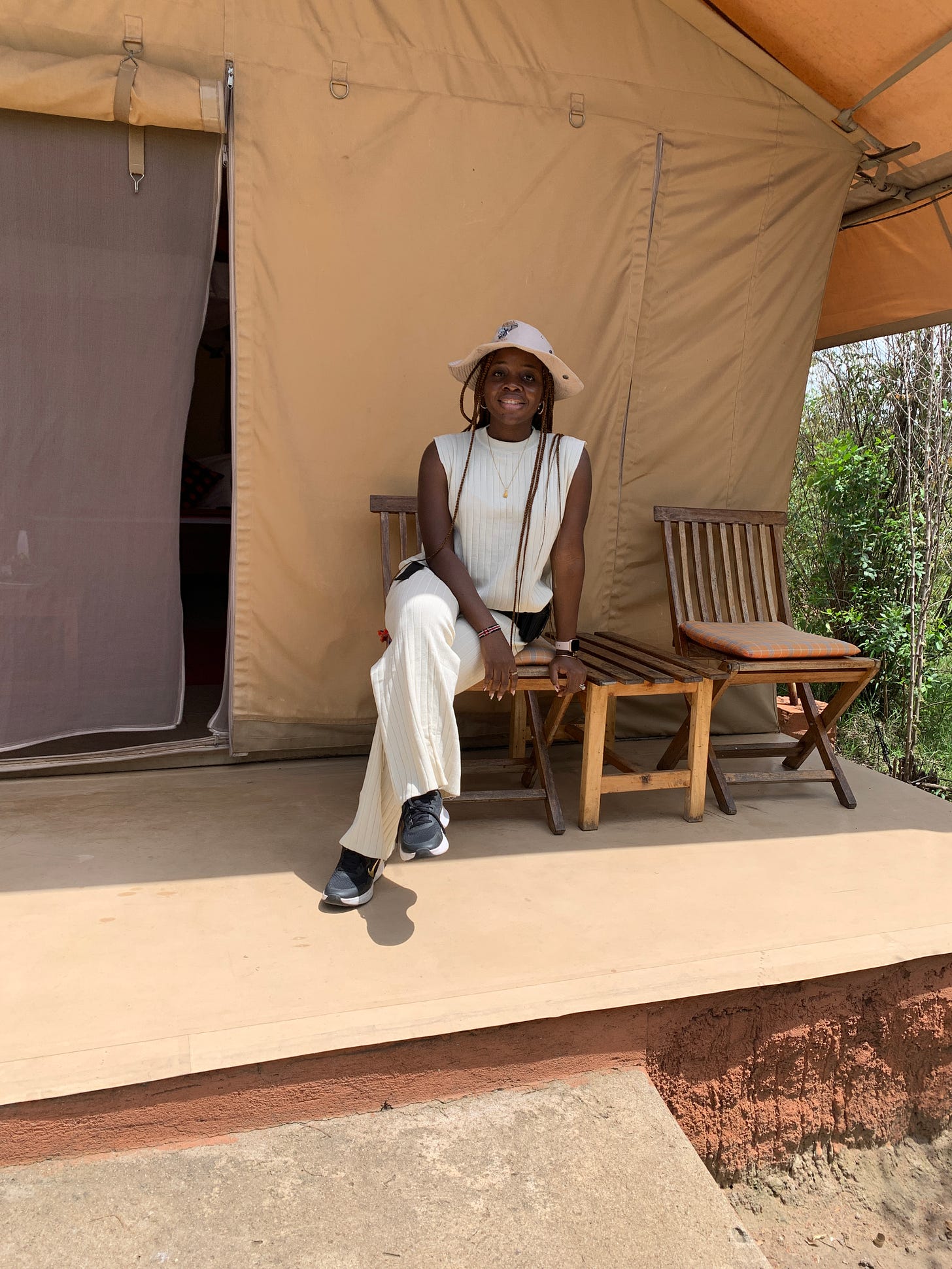 We had a few hours to rest before it was time for the first game drive at 4pm and it was was such a great adventure. If I thought I saw animals at the Nairobi National park, there were at least 10 times more at the Mara.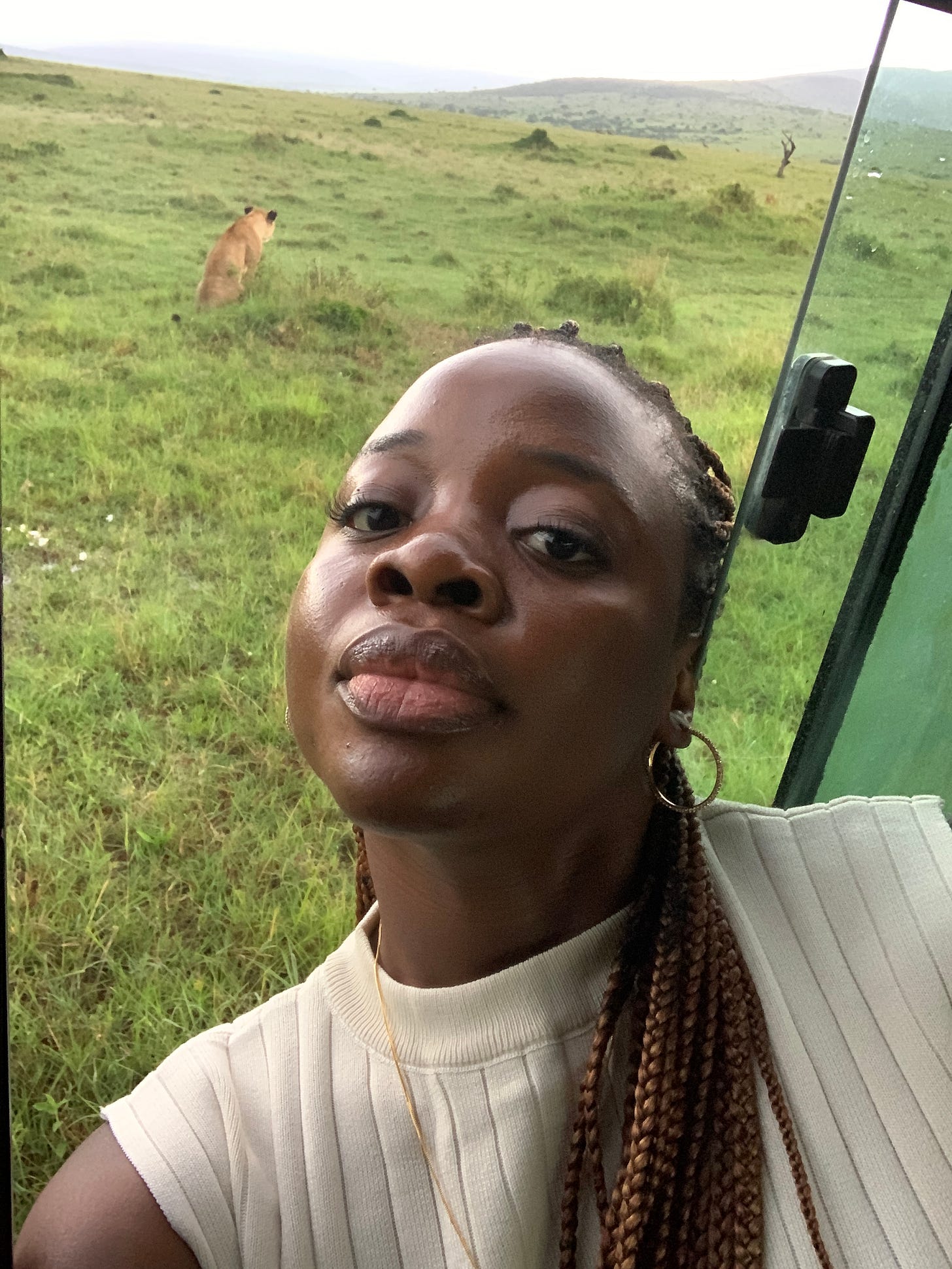 Day 4: Game Drive and More Wildlife
We started the day very early at about 6am for another safari drive. It was important to set out early so we could have a chance to spot the animals as they hunted for food in the morning.
This time it was a full day of game drive for over 6 hours as we went round the 1,510 km² Maasai Mara park spotting several animals from Elephants grazing to a Lion and Lioness in the middle of mating, to Hippos sleeping, Buffalos, Leopards, Cheetahs, Giraffes, Wildebeests and so many other animals.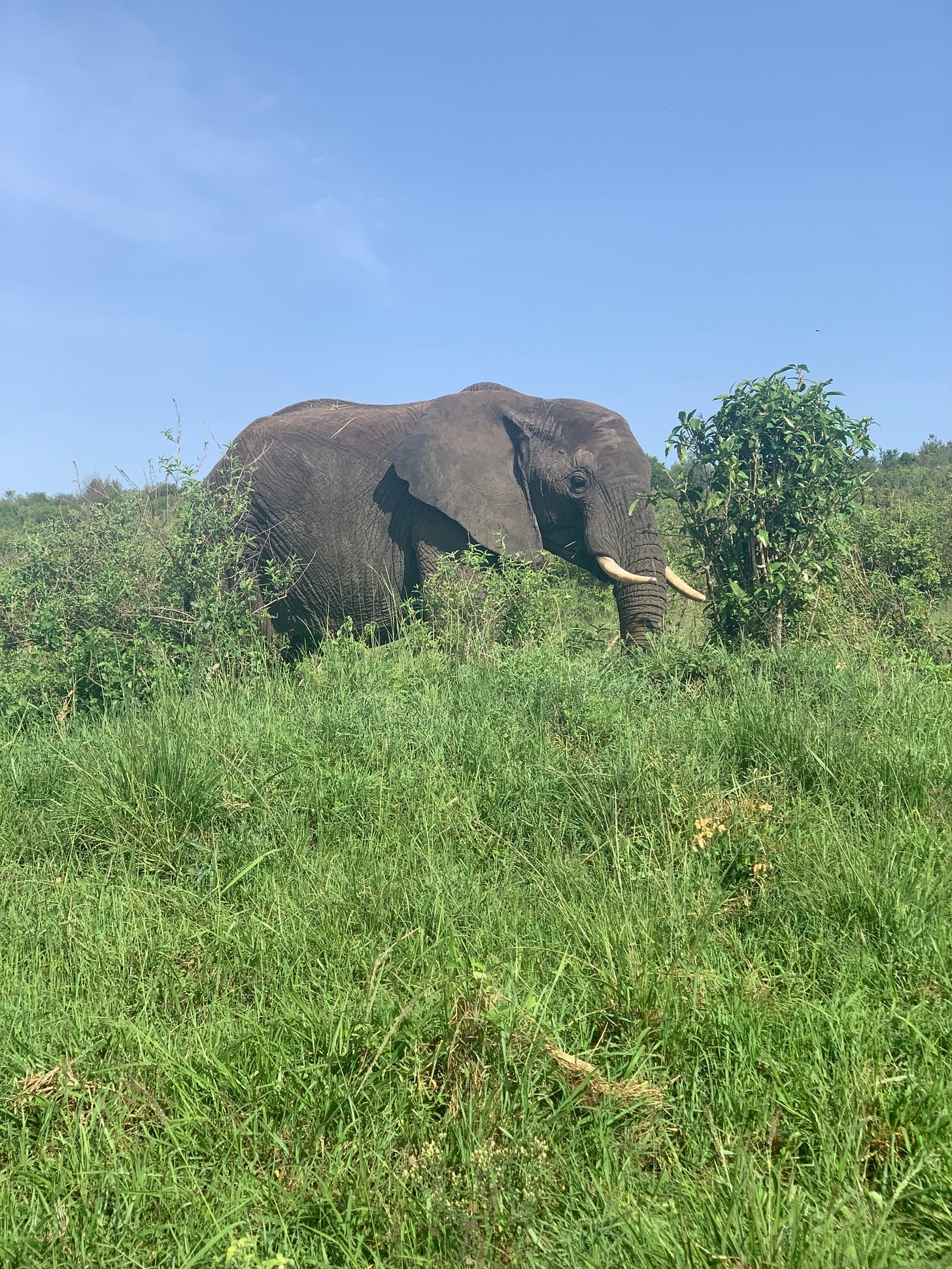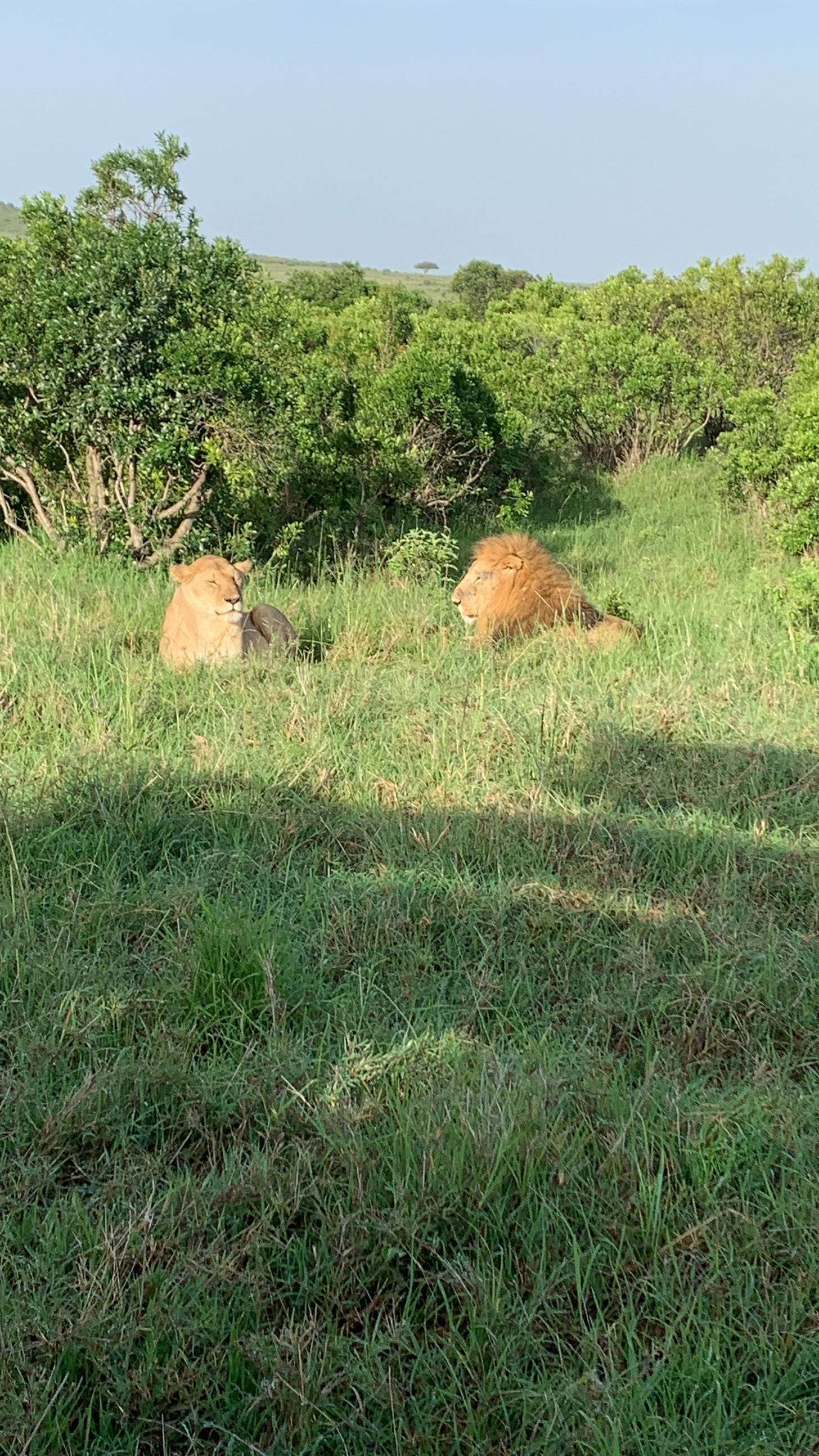 We stopped for a picnic lunch at the Kenya/Tanzania border – we technically had lunch in Tanzania – Serengeti precisely 🙂
Took a couple more pictures and it was a wrap for day 5
Day 5: Hello Maasai Village, Goodbye Maasai Mara
It was time to leave Maasai Mara and head back to Nairobi. The departure time was for 10am as the rest of the group wanted to sleep in, however I wanted to visit a Maasai villages as I had that in my own itinerary.
I arranged with the driver to pick me up early and drop me at the village so I could spend some time there before it was time to leave. The Maasai people have a very unique and interesting culture which they have continued to maintain. Their culture is centred around the belief that God created cattle especially for them; their life revolves around amassing and grazing large herds of cows ; the number of cows you have equates to how wealthy you are.
I met the men doing their signature 'jumping dance' and joined in (the higher a Maasai man can jump, the less the bride price he needs to pay when getting married 🙂
I also spent time singing and dancing with the women; I absolutely loved learning about their unique culture and traditions.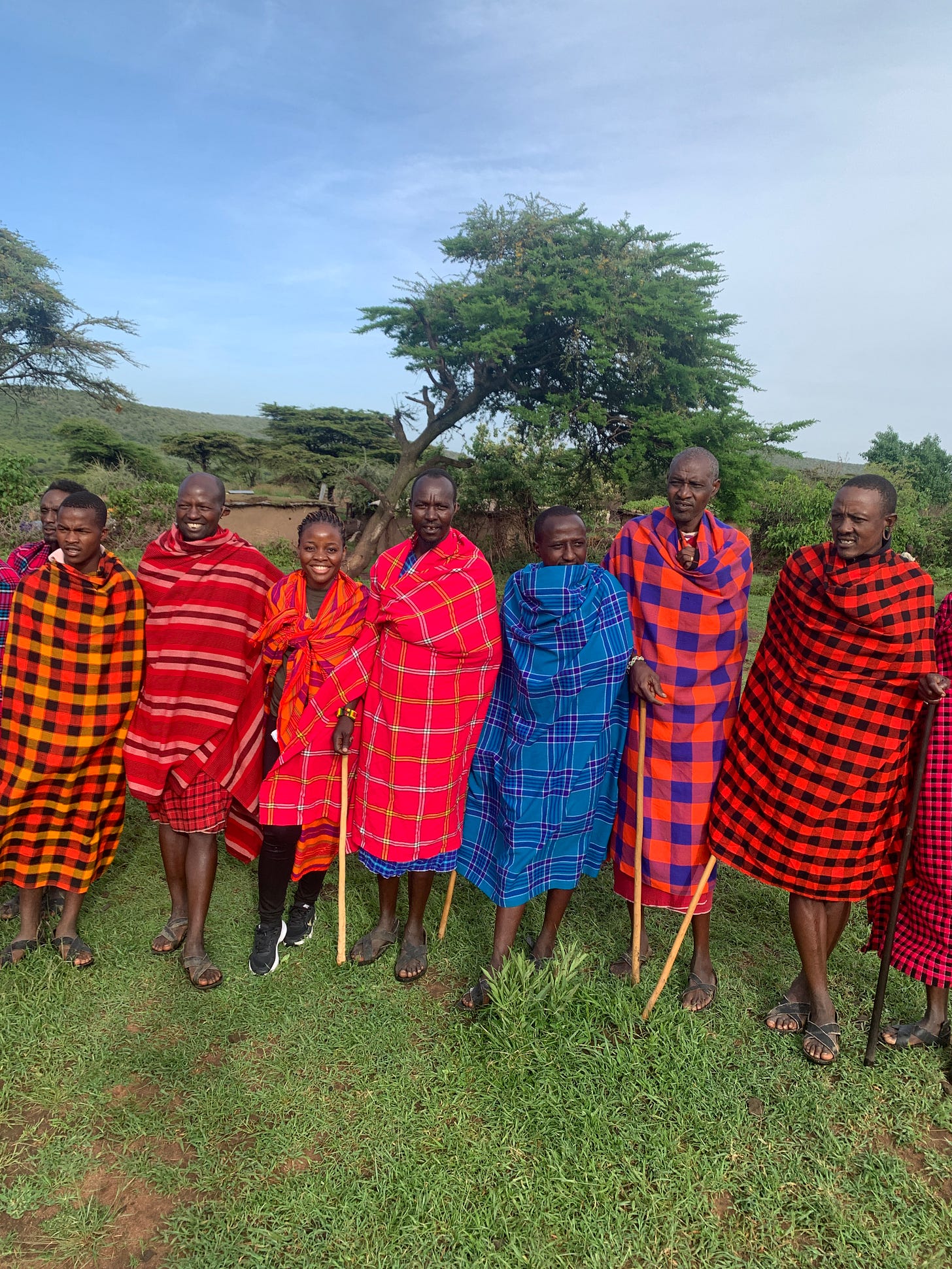 After this, we set out back to Nairobi and it was a wrap for day 5.
DAY 6: CHILL + CARNIVORE
As much as I like activities, I usually crave quiet and alone time, so I was super excited to take this day to chill in my hotel room and read a book for the most part. It was Valentine's day and even though I was spending it alone for the first time in a while, I felt really good as I was having a swell time on the trip.
Later in the evening, I went to the Carnivore restaurant for dinner. The Carnivore restaurant is a popular restaurant in Nairobi know for its all-you-can-eat meat buffet. I had my fill of various kinds of meat
DAY 7: KWAHERI (GOODBYE)
It was time to say goodbye to Kenya!
After what had been an amazing experience, I was excited to get on the plane for the second part of my trip to Zanzibar which I will share in a separate blogpost next week.
If you made it this far, you are the real MVP as I know this has been a long read. I however hope it has been an interesting one!
If you have any questions about travelling to Kenya or travelling solo in general, please drop them in the comments and I will be more than happy to help.
Asante sana (Thank you)
Love,
Nifemi