Always have an extra pair of clothing in your bag whenever you go out in Zanzibar!!! This is the first thing I wish someone had told me about going to Zanzibar, so it only felt right to start the post with this – lol. A close second will be "brush up on your swimming skills".
This week on the blog, I am sharing the second part of my 2-week solo trip to East Africa. I wrote about the first part of the trip, which I spent exploring Kenya, here, where I shared my itinerary, costs, and tips on travelling solo.
After seven amazing but physically exhausting days in Kenya, my intention for the second leg of my trip was to unwind and relax, and Zanzibar provided all of that and more. Between morning strolls on the beach, relaxing by the pool all day with a book, eating a lot of seafood, and learning how to Kayak, I had the most relaxing time there.
Zanzibar is a 2-hour flight from Nairobi, so a Kenya+Zanzibar trip is a great combination to consider. Now, let's dive into the details:
Visa
As a Nigerian passport holder, you need a visa to travel to Zanzibar. You can find all the details on applying for a Zanzibar visa here. The visa processing timeline is usually around 15 days so you need to get started well ahead of your trip. The official visa fee is $50, however using a travel agent, which I used, will cost you a lot more.
For Non-Nigerian passport holders, this link has all the information on whether or not you need a visa to travel to Zanzibar, there are over 40 countries that do not require a visa to travel to Zanzibar.
Covid Requirements:
At the time I travelled, you were required to have a negative PCR test taken not more than 72 hours before your flight into Zanzibar. I took a covid test in Kenya which cost me about $70. Cost may vary depending on your departure location. You also need to have a yellow fever vaccination card to travel to Zanzibar.
Hotel Reservation:
I used booking.com for my hotel reservation in Zanzibar as well. I shared a few tips on the Kenya post on things to consider in making the best hotel choice for your vacation. Do ensure to take some time to read reviews about the hotels before going ahead with payment.
**********************************************************
Now that we have the basics covered, let's deep dive into my itinerary. I curated this itinerary based on the type of experience I wanted to have and you can move things around based on your personal preference.
DAY 1: VIEWS FROM THE SKY
Nothing prepared me for the stunning view as we approached Zanzibar, it was such a beautiful sight to behold. As we flew across Mount Kilimanjaro and approached the clear & pristine blue seas of Zanzibar, it was hands down the best view I have ever seen from the sky.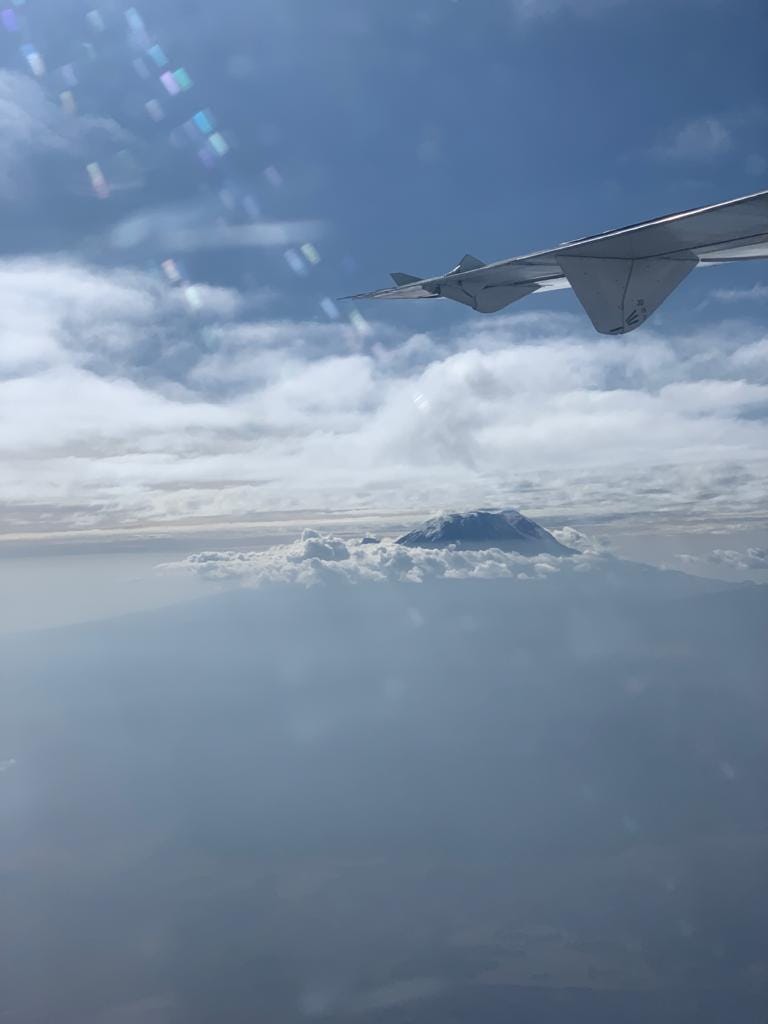 I arrived in Zanzibar around noon and the journey to the hotel was about 90 mins. The hotel was quite a distance from the airport as I was particular about staying somewhere close to the beach versus in the city. I stayed at the Canary Nungwi hotel which was a 5 mins stroll to the Nungwi beach.
After settling into the hotel, I had lunch and went straight to the beach for an evening stroll.
I spent the rest of the evening at the beach watching the sunset before retiring to the hotel for an early night.
DAY 2: SAFARI BLUE FULL-DAY TOUR
The tour is a full-day safari experience on a boat, exploring the beautiful city of Zanzibar. It features several stops for snorkeling, and considering that I couldn't swim to save my life, snorkeling was a no go for me. I however enjoyed sightseeing, spotting dolphins, fishes, corals, and so many other interesting discoveries on the ride.
The tour cost about $80 including lunch.
I set out for the day feeling super cute in this jumpsuit, little did I know that I was going to spend the better part of the day praying to get out of it.
On getting to the take-off spot for the safari tour, I realized that we had to take a long walk on the sea to get to the boats, and given the length of my outfit, it was a nightmare dragging myself to the boat. If you are going to Zanzibar, just pack plenty shorts 🙂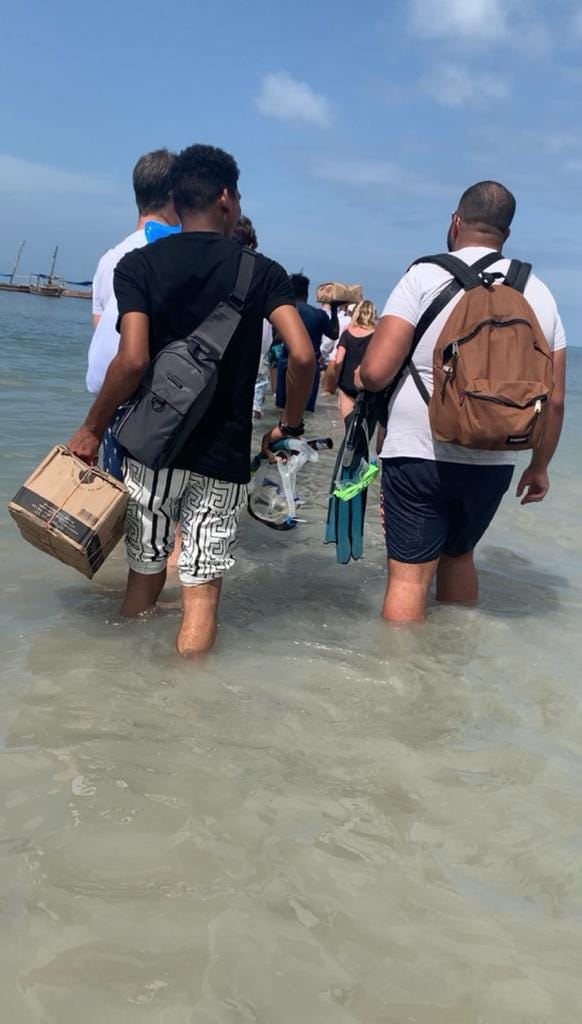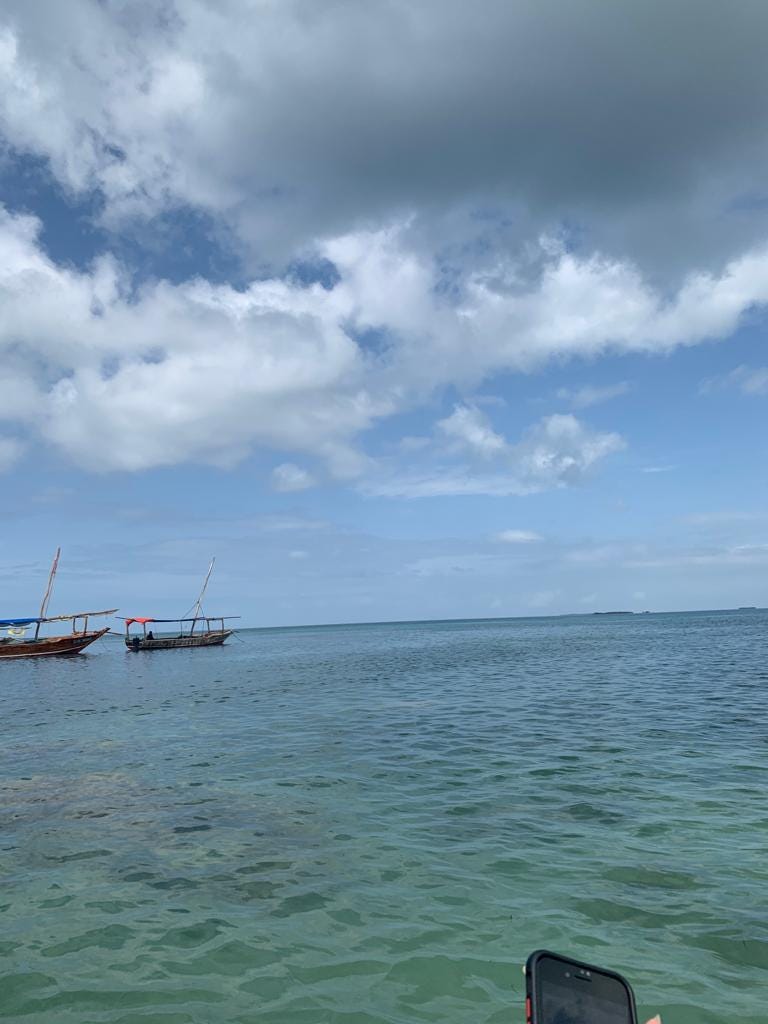 After we finally got to where the boats were stationed, I noticed people taking off the first layer of their clothes, revealing drier clothes (bikinis, shorts) underneath. I had no clue that was a necessity and had nothing to change into. I was so drenched from the 'exodus' and couldn't imagine how I was going to survive hours on the boat in the outfit I had on. I had to make a conscious effort to 'carry my weather' and focus on enjoying the day as much as I could.
We stopped a couple of times for tourists to snorkel before heading to our lunch spot where we had a group lunch, and I was so excited to find a souvenir store where I bought a change of clothes for the trip back.
Moral of the story: Always have dry clothes in your bag 🙂
DAY 3: FASHION AND MAJOR TOURIST VIBES
Before I dive into my day 3 agenda, I need to give it up for this gorgeous dress – it was giving!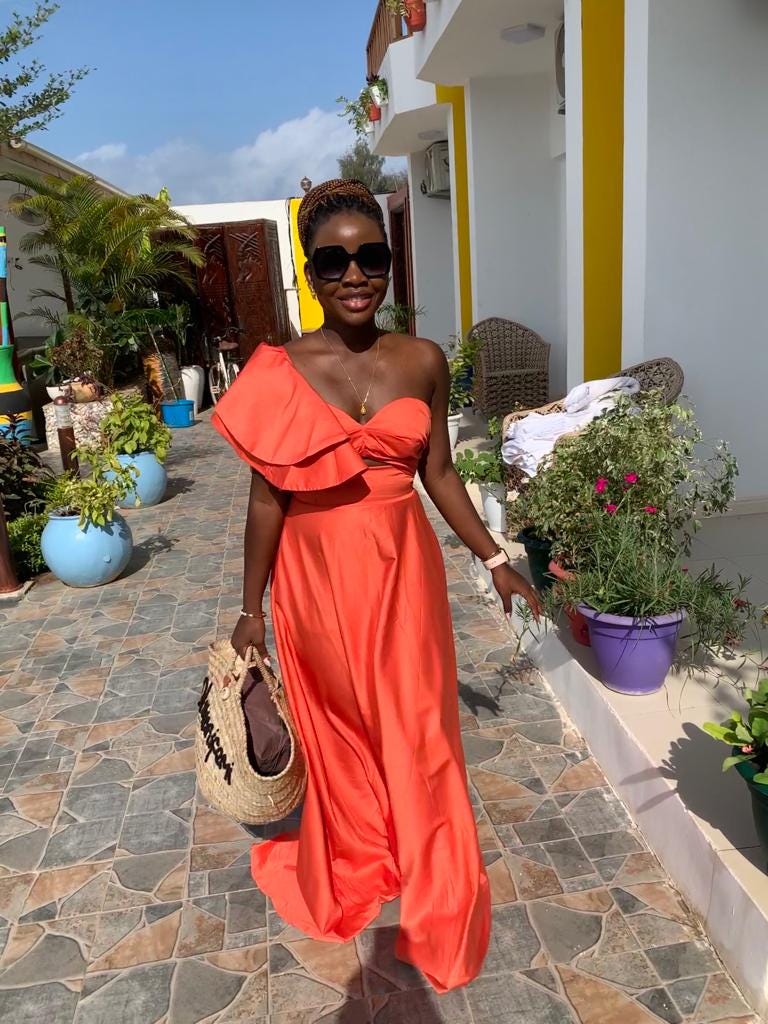 Day 3 Agenda
Spice Tour
Prison Island
Stone Town Tour
Started the day with an early morning stroll by the beach which became my morning ritual during my time in Zanzibar, after which I set out for another eventful day touring Zanzibar.
Spice Tour:
The Spice tour is one of the must-do activities in Zanzibar. It is about a 3-hour tour around the spice farm, learning about various spices, trees, and exotic fruits. All of my senses came to life during this tour from smelling various spices to having a taste of unique fruits from the farm. It was such a thrill.
I got introduced to so many spices and fruits I had never seen before and it was just a beautiful experience.
Prison Island
My next stop was Prison Island, it is a small island on the Indian ocean which was initially built as a prison for slaves in the 1860s and was later converted to a quarantine center for yellow fever cases. Besides being the home to several giant tortoises, there is not a lot to see there, however, it is a recommended stop as part of your Zanzibar itinerary. I spent some time with the tortoises, walking around the island and learning about the history behind the place.
Stone Town Tour:
My next stop was Stone Town, which is the old city area and cultural heart of Zanzibar. for a tour of the historic parts of the city. It is about a 3-hour tour with a guide taking you on a historical journey through the old slave market, Darajani marketplace, the House of Wonders, the Old Fort, the Sultan's Palace, and other historical spots in Zanzibar.
The most fascinating part of the tour for me was the architecture, mostly dating back to the 19th century, which reflects the diverse influences – Arab, Indian, European, etc, underlying the Swahili culture of Zanzibar. From the doors to the pavements, there was rich architecture all around.
The hotel had a tour package for all 3 locations I visited (Spice tour, Prison Island, Stone Town) which cost about $80 which was what I booked; however, you may need to tip the tour guides in the different locations.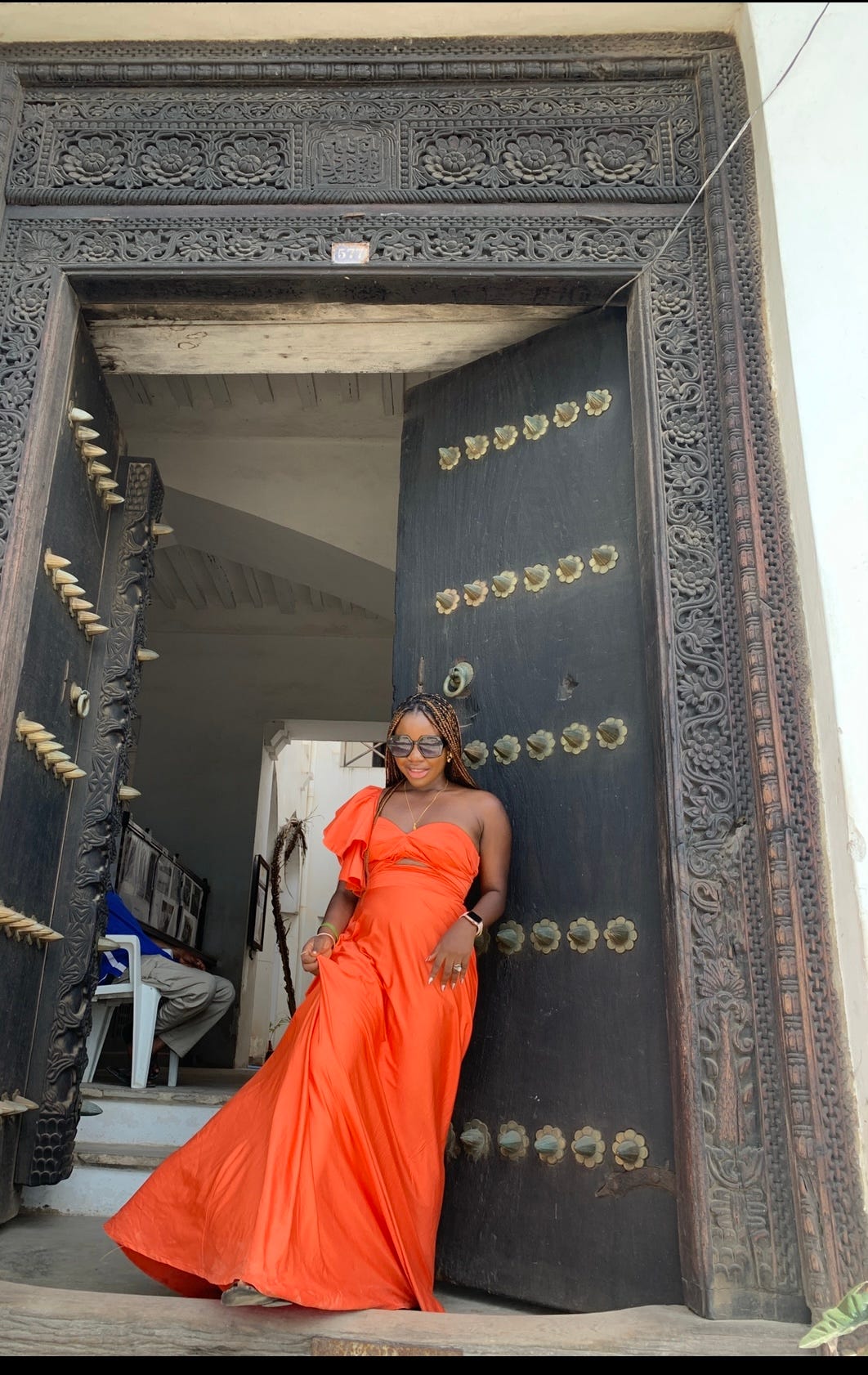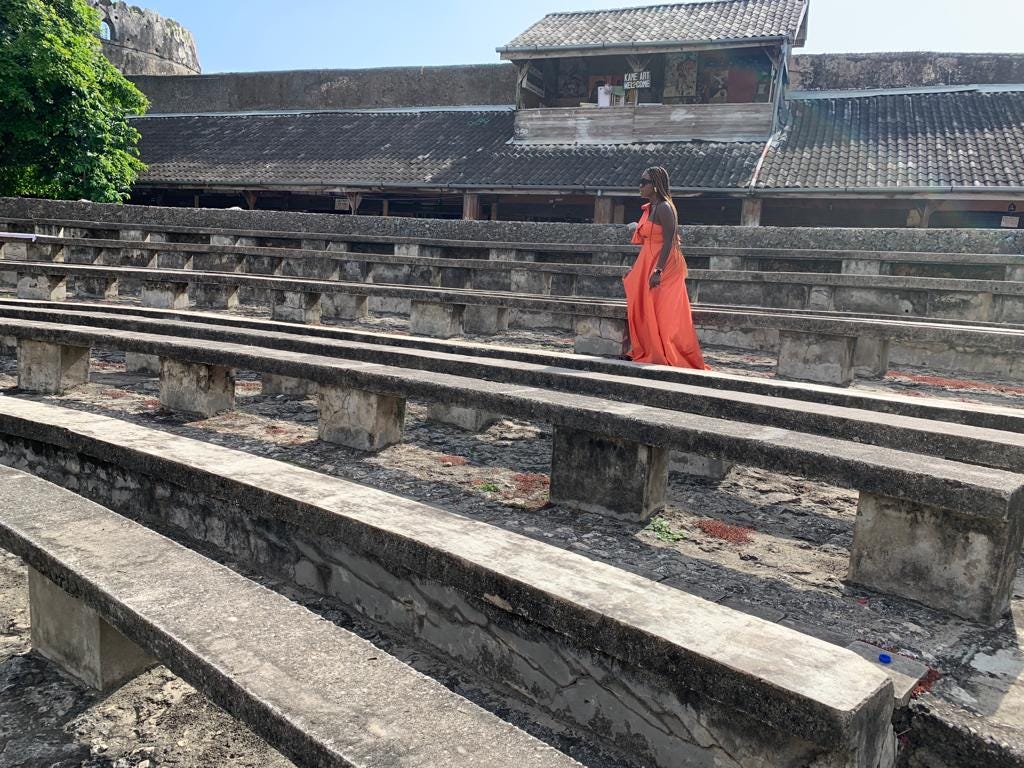 DAY 4: POOLSIDE CHILLING
After two days of exploring, day 4 was rest day. I spent the day relaxing by the pool at the hotel, journaling and reading 'The Seven Husbands of Evelyn Hugo' – a fantastic book by the way.
DAY 5: THE ADVENTURE CONTINUES
Agenda
Swimming with turtles
Kayaking
Traditional Sunset Dhow Cruise
Swimming with Turtles:
The first adventure on the agenda was swimming with turtles; for someone who didn't know how to swim, I bet you agree that was audacious – lol. I was scared, especially as someone had just gotten bitten by a turtle as I arrived, but decided to give it a shot. Loved the time I spent feeding and watching the turtles.
Kayaking:
After surviving the turtles, next on the agenda was Kayaking. It was my first time doing it and it was one of the most beautiful experiences I had on this trip. The serenity was breathtaking.
Traditional Sunset Dhow Cruise
I wrapped the day with a sunset cruise on a traditional dhow. It was so beautiful to watch the sunset whilst being entertained with traditional music by the boat crew.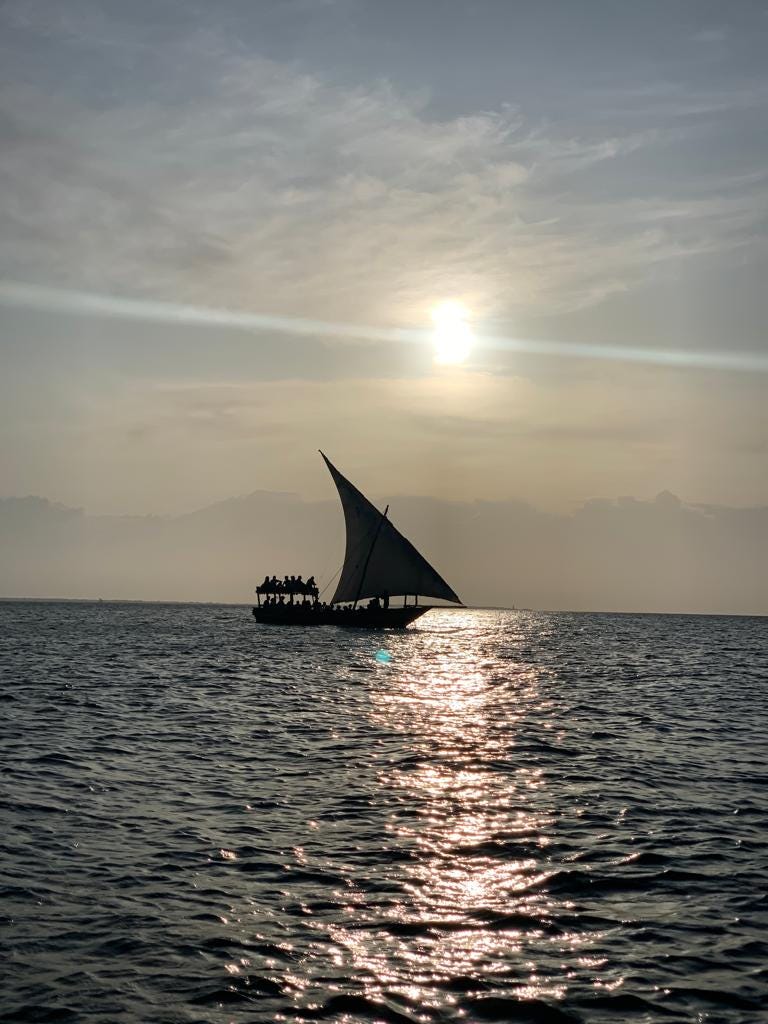 DAY 6: GOODBYE TO ZANZIBAR
Final day in Zanzibar and it was time to say goodbye to a city that left me with so many memories.
This trip to Kenya and Zanzibar is one I will treasure for a long time and it was an absolute delight to share the ups, downs, and in-betweens with you all.
I hope you enjoyed reading about my adventures and it inspires you to chase some of your own, regardless of what that might be.
Love,
Nifemi